SYNA OPEN 2017
1st to 6th May 2017, Katni, Madhya Pradesh
---
Go to:
2) Prizes
3) Schedule
4) Reports
5) Past winners
---
Schedule:
---
Prizes:
---
Pay entry fees:
For GMs, IMs, WGMs, WIMs & +2400 Free
Rs. 1500 for 2200-2399:
Rs. 3,300 for all other Rated players:
Rs. 3,800 for unrated section:
The last date of entry: 15th April, 2017
Entries with late fee of Rs. 500/- 16th to 30th April, 2017
Free lodging for first 250 entries.
Food will be provided at the venue, but will have to be paid for separately.
---
ChessBase India prizes
Top three: ChessBase 14
Best u-8, u-10, u-12, u-14: Three months ChessBase Premium Account
34th to 40th place: Three months ChessBase Premium Account (There are cash prizes until 33 places. Hence, we offer these prizes to the players who have just missed out!)
Best Female: Strengthen your Chess Foundation by IM Nisha Mohota
---
Previous Reports on SYNA Open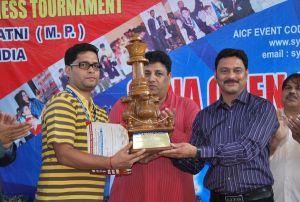 Central India is all set to host its biggest Open tournament when the SYNA International School hosts the SYNA Open 2016 at Katni in Madhya Pradesh. The tournament carries, for a reasonable entry fee, features that are only enviable and comparable to the best of chess tournaments in the country. Read this heartfelt invitation by the man behind the event, Niklesh Kumar Jain.
SYNA Open 2016: It's a team effort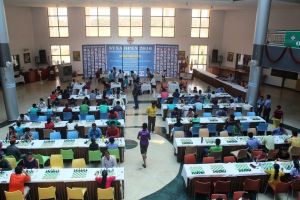 The tournament with rupees five lakh prize fund, SYNA Open 2016, has already begun in Katni, Madhya Pradesh. After three rounds we have seventeen players with a perfect score of 3.0/3. It will be an intense fight for the top spots as strong players like Swapnil Dhopade, N.Srinath, Himal Gusain, Himanshu Sharma are giving it their all. Thoroughly inspiring is to see the entire staff of the SYNA international school completely dedicated in organizing a top notch event. A pictorial report from Katni.
SYNA 04-06: Srinath and Gusain share lead
Central India's richest tournament with Rupees five lakh prize fund, SYNA Open 2016, began in Katni, Madhya Pradesh. It promised to be an intense fight as strong players like Swapnil Dhopade, N.Srinath, Himal Gusain, Himanshu Sharma are in contention for the top prizes. At the end of six rounds, IM Srinath Narayanan and Himal Gusain share the lead with 5.5/6. An illustrated report.
SYNA 07-09: The student and the teacher
The SYNA International Open 2016 turned out to be a double delight for Maharashtra as the leading light from the state IM Anup Deshmukh finished second while GM Swapnil Dhopade was first. The leaders after six rounds — Himal Gusain and Srinath Narayanan — stuck to the top tables throughout the event but missed opportunities finishing third and fourth respectively. The shocking news was the untimely death of the visionary Satyendra Pathak, founder of SYNA group, on the last day of the tournament. SYNA Open 2017 will be held in his memory. An illustrated report with games.
AICF CEO Bharat Singh Chauhan's speech at SYNA Open 2009!
---
Confirm Players list on 25/04/2017 at 11am
| | | | |
| --- | --- | --- | --- |
| SNo. | | Name | IRtg |
| 1 | IM | Ravi Teja S. | 2380 |
| 2 | | Hemant Sharma (del) | 2375 |
| 3 | FM | Srinath Rao S.V. | 2312 |
| 4 | | Dodeja Pawan | 2235 |
| 5 | IM | Chakravarthi Reddy M | 2189 |
| 6 | | Vinod Kumar Sharma | 2182 |
| 7 | | Dhananjay S | 2167 |
| 8 | IM | Ramnathan Balasubramaniam | 2164 |
| 9 | | Joshi Govind Ballabh | 2107 |
| 10 | | Singh Arvinder Preet | 2099 |
| 11 | | Mishra Manoj | 1996 |
| 12 | | Anusha N L V | 1963 |
| 13 | | Sumit Grover | 1933 |
| 14 | | Rishabh Nishad | 1923 |
| 15 | | Negi Virender Singh | 1916 |
| 16 | | Sudhanshu Ranjan | 1895 |
| 17 | | Awadh Chaitanya | 1889 |
| 18 | | Ayush Pattanaik | 1886 |
| 19 | | Nasir Ali Syed | 1883 |
| 20 | | Anuj Shrivatri | 1874 |
| 21 | | Pandey Srishti | 1829 |
| 22 | | Himanshu Ranjan | 1824 |
| 23 | | Vaibhav Jayant Raut | 1791 |
| 24 | | Sohanlal | 1760 |
| 25 | | Shah Asif | 1723 |
| 26 | | Brajesh Kumar Upadhyay | 1721 |
| 27 | | Swapnil Raj | 1715 |
| 28 | | Rahul Bharadwaj B | 1704 |
| 29 | | Ayush Bhai Mehta | 1693 |
| 30 | | Saurabh Lokhande | 1690 |
| 31 | | Patil Rohit R | 1682 |
| 32 | | Yadav Prem Gopal | 1671 |
| 33 | | Roneet Das | 1653 |
| 34 | | Kasar Prashant | 1645 |
| 35 | | Mckenzie Lionel Joseph | 1638 |
| 36 | | Jagdish Narang | 1618 |
| 37 | | Adane Narayani | 1615 |
| 38 | | Pardeshi Ajay | 1593 |
| 39 | | Mathew Sunny | 1592 |
| 40 | | Sharma Suyash | 1589 |
| 41 | | Kewat Subham Kumar | 1585 |
| 42 | | Ankur Khatri | 1580 |
| 43 | | Rishi Sonker | 1576 |
| 44 | | Tiwari O P | 1568 |
| 45 | | Bhat Siddharth K | 1550 |
| 46 | | Utkarsh Agrawal | 1539 |
| 47 | | Karankar Padmakar | 1533 |
| 48 | | Umer S.M | 1531 |
| 49 | | Deepak Soni | 1501 |
| 50 | | Thakur Ankur Singh | 1499 |
| 51 | | Mishra Kamad | 1495 |
| 52 | | Ayush Sharma | 1485 |
| 53 | | Chourasia Yogendra | 1458 |
| 54 | | Arora Honi | 1448 |
| 55 | | Tiwari Shivansh | 1445 |
| 56 | | Thakare Seeya | 1441 |
| 57 | | Bahadur Singh Lic | 1434 |
| 58 | | Bharadia Madhav | 1433 |
| 59 | | Krishnan Ritvik | 1411 |
| 60 | | Subramanian T.V. | 1391 |
| 61 | | Sirsikar Shivam | 1386 |
| 62 | | Gourav Nigam | 1385 |
| 63 | | Dhanvij Ansh | 1366 |
| 64 | | Ranade Mayank | 1358 |
| 65 | | Pimpale Akash | 1353 |
| 66 | | Tayade Vivek | 1340 |
| 67 | | Eshaan Chandrol | 1328 |
| 68 | | Dadwani Sahil | 1312 |
| 69 | | Prakash Banskar | 1296 |
| 70 | | Singh Shivesh | 1294 |
| 71 | | Manodhya Prakrati | 1290 |
| 72 | | Bharadia Yash | 1285 |
| 73 | | Sharanya Vinayak Adane | 1263 |
| 74 | | Shivam Pandro | 1260 |
| 75 | | Ashar Parth | 1239 |
| 76 | | Lonkar Parth | 1229 |
| 77 | | Lakshyesh Mohan Gupta | 1211 |
| 78 | | Jindal Aabhas | 1210 |
| 79 | | Chhattani Shourya | 1202 |
| 80 | | Panchal Sahil | 1200 |
| 81 | | Pandey Saurabh | 1189 |
| 82 | | Aryan Jaiswal | 1177 |
| 83 | | Sidak Chhabra | 1177 |
| 84 | | Yash Pyasi | 1174 |
| 85 | | Bajaj Prakhar | 1172 |
| 86 | | Agrawal Aaryan | 1167 |
| 87 | | Bodkhe Aditya | 1166 |
| 88 | | Akshat Pathak | 1165 |
| 89 | | Paridhi Shrivastava | 1147 |
| 90 | | Garvnit Shrivastava | 1126 |
| 91 | | Tare Mukul | 1118 |
| 92 | | Ketki Karsa | 1112 |
| 93 | | Mandakani Mishra | 1111 |
| 94 | | Manish Kumar Singh | 1110 |
| 95 | | Abhishek Sudhakar Jadhav | 1109 |
| 96 | | Pandey Divya | 1078 |
| 97 | | Prakhar Chaturvedi | 1073 |
| 98 | | Shaw Sidhant | 1062 |
| 99 | | Sompurkar Shreyash | 1045 |
| 100 | | Jaiswal Abhishek | 1027 |
| 101 | | Samarth Singh | 1026 |
| 102 | | Jain Omi | 1023 |
| 103 | | Jaiswal Kritika | 1019 |
| 104 | | Grover Rudraksh | 1017 |
| 105 | | AGRAWAL MEHUL | 0 |
| 106 | | Agrawal Aisha | 0 |
| 107 | | Agrawal Ashutosh | 0 |
| 108 | | Ahmed Imtiyaz | 0 |
| 109 | | Anugya Gugalia | 0 |
| 110 | | Awasthi Madura | 0 |
| 111 | | Bajaj Ishita | 0 |
| 112 | | Bajpai Vanshika | 0 |
| 113 | | Bhartiya Suhani | 0 |
| 114 | | Bulani Vansh | 0 |
| 115 | | Deepansh Biallaiya | 0 |
| 116 | | Devanshi Rawat | 0 |
| 117 | | Dodwani Hoshiko | 0 |
| 118 | | Dushyant Gurjar | 0 |
| 119 | | G Mahadevan | 0 |
| 120 | | Gai Arindam | 0 |
| 121 | | Golchha Yashvardhan | 0 |
| 122 | | Goyal Lakshya | 0 |
| 123 | | Gugalia Aaryaman | 0 |
| 124 | | Harshit Singour | 0 |
| 125 | | Ishaan Singh Khanuja | 0 |
| 126 | | Jain Anumit | 0 |
| 127 | | Jain Swatantra | 0 |
| 128 | | Jain Yuv | 0 |
| 129 | | Joshi Purva | 0 |
| 130 | | Kachhap Abhijoy | 0 |
| 131 | | Kapoor Kritika | 0 |
| 132 | | Keshri Akshat | 0 |
| 133 | | Khan Rizwan | 0 |
| 134 | | Krishnan Trisha | 0 |
| 135 | | Kushagra Khare | 0 |
| 136 | | Lalit Kumar Kaser | 0 |
| 137 | | Modi Erya | 0 |
| 138 | | Monga Harsh | 0 |
| 139 | | Mouli Batham | 0 |
| 140 | | Muskan Karsa | 0 |
| 141 | | Nishkalan T | 0 |
| 142 | | Pandey Swapnil | 0 |
| 143 | | Pandey Vedanshi | 0 |
| 144 | | Parihar Harsh Singh | 0 |
| 145 | | Parmar Ranveer Raj Singh | 0 |
| 146 | | Rajika Agrawal | 0 |
| 147 | | SINGH SHAURYA PRATAP | 0 |
| 148 | | Saket Atul Kumar | 0 |
| 149 | | Sanchay Kumar | 0 |
| 150 | | Shreyansh Bansal | 0 |
| 151 | | Shrivas Rishija | 0 |
| 152 | | Siddhant | 0 |
| 153 | | Singh Rishi | 0 |
| 154 | | Singh Dushyant | 0 |
| 155 | | Singh Yash | 0 |
| 156 | | Tiwari Shirsha | 0 |
| 157 | | Tongia Vihaan | 0 |
| 158 | | Vedansh Mittal | 0 |
| 159 | | Verma Rajendra | 0 |
| 160 | | Wadhwa Vishaal | 0 |
GM Sriram Jha was the champion in 2009

Until now two editions of Syna Open have taken place. The first one was in 2009 and the second in 2016. 2017 will witness the third edition.Past winners
Image Gallery